3000 E. Manzanita Ave | Tucson, AZ 85718
Phone: 520-209-7800 | Fax 520-209-7870
Attendance Line: 520-209-7860
Early Release Hours 8:00am - 1:30pm
K-AM: 8:00am - 11:00am
K-PM: 12:00pm - 3:00pm
School Hours: 8:00am - 3:00pm
Office Hours: 7:30am - 3:30pm
First Student, Inc. (bus company): Contact Info

Kim Boling
Principal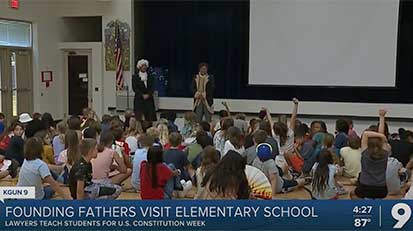 To observe Constitution Week, longtime CFSD family members Ted and Matt Schmidt delivered a presentation on America's beginnings dressed as two of our founding fathers. As Thomas Jefferson began to read the Declaration of Independence, Manzanita fifth graders joined in--reciting it entirely from memory! View full story here.
New this year, in addition to the arts, Manzanita brought in a variety of Spanish cultural activities. Our Spanish teachers collaborated with several Spanish heritage families to create authentic Mexican experiences, like paletas, chalk drawings, and flower-making crafts.

FOR PROSPECTIVE FAMILIES
Interested in learning about
Manzanita's campus?
School Tour Dates
11/2/23 @ 1:00pm
11/7/23 @ 10:00am
11/16/23 @ 1:00pm
11/21/23 @ 10:00am
11/30/23 @ 1:00pm
12/5/23 @ 10:00am
12/14/23 @ 1:00pm
12/19/23 @ 10:00am
1/11/24 @ 1:00pm
1/16/24 @ 10:00am
1/25/24 @ 1:00pm
1/30/24 @ 10:00am
To schedule a tour contact
Sheri Rosquist
520-209-7802

McKinney-Vento Act: Rights & Protections
*Reminder* IMMUNIZATION REQUIREMENTS
Tdap and Meningococcal
Immunizations Letter
Want to know what's going on in your student's classroom? Manzanita Elementary School uses Bloomz as our primary parent communication tool.
Click here to learn more about Bloomz and be taken to your student's classroom.
EduKit
Manzanita Back to School Student Supply List 2023-2024 School Year
Read the College & Career Ready Report
CFSD Safety & Security Information